Skin Gym: Homemade recipes to GLOW
by Danielle Ribaudo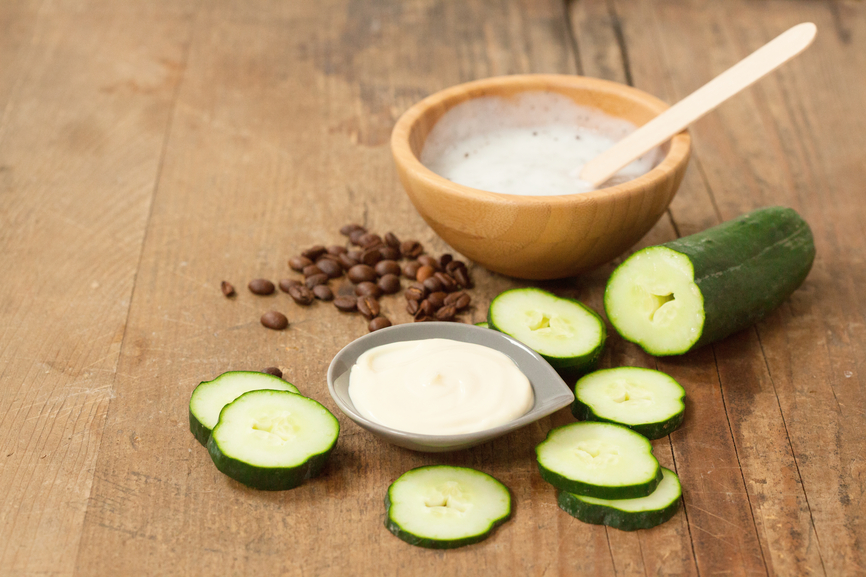 Have you ever looked at all of the ingredients on your personal care products? It can feel much like you are reading a foreign language as you try to decode all of the contents. We have now found many of these ingredients can encourage certain skin conditions or imbalances, even leading to inflammation and most disheartening, serious illnesses.
I have a simple personal guideline I follow when purchasing beauty products.
If you cannot pronounce the ingredients, ditch it.
The more ingredients, the more opportunities for quality to drop and chemicals to be hiding. If the list gets toolong, ditch it.
If you can't ingest it, would you really want it on your body? Your shell. Your skin. Your largest organ? That's right, ya heard me, throw that shit away.
I know many of the "clean" products can be a little pricey these days. So consider choosing where you would like to splurge and then go straight to the kitchen to create your own natural beauty products. It's a simple and cost effective way to take your beauty regimen to the next level while still staying within your budget! Even better, it meets all three of my personal product shopping guidelines. Especially #3.
Check out these three facemasks I love to make right in the comfort of my own kitchen. They can even be rotated seasonally depending on what is going on with your skin.
Dry – Normal Skin/ Moisturizer: Avocado & Raw Honey Mask
I love to use this mask in the dry winter months. Both Avocado and honey tend to be very moisturizing. Avocado is high in antioxidants, mono saturated fats, and vitamins. It is wonderful for fighting against free radicals and moisturizing to the skin. Raw honey is antimicrobial and antiseptic as well as a natural collagen booster to smooth out wrinkles.
Ingredients:
1/2 Organic Avocado
1 tablespoon of Raw (locally preferred) Honey
Mix up in a bowl with a fork until smooth. This amount is plenty for two. So grab a friend and have a spa day! Apply the mixture to the face and neck, let sit for 10 – 20 minutes. Wipe dry with a gentle wet clothe, rinse your face with cool water and voila! Now bask in the glow of your more noticeably smooth and radiant skin.
Combination – Normal Skin / Exfoliator: Organic Strawberry Mask
This mask is one of my favorites for summer months when strawberries are in their prime and my face needs a little refresh after long sunny days filled with adventure. It is so simple and takes no time at all! Some of the benefits contained in strawberries help fight against acne and pimples as well as fade scars and age spots. You'll also get a boost of production for new cells as you shed old skin.
Ingredients:
1 – 5 Organic Strawberries
*Optional 1 tablespoon of Raw Honey (will also exfoliate, yet take away some of the abrasive nature of the strawberry)
You can do this two ways. You can cut a strawberry in half and rub it on your face. I switch from the fleshy inside part to actually get the strawberry all over and then go to the seed side for a gentle exfoliator. For the second variation you can take 3 – 5 strawberries and mash them up with a fork. Option to leave the leaves for extra exfoliation. Then rub on face and neck in a circular motion. Leave on for 10 – 20 minutes. Wipe off with a warm wet clothe and rinse your face with cold water to close pores.
Oily – Normal Skin / Radiance: Banana, Orange & Raw Honey
I tend to use this mask when my skin needs a boost and I am feeling like I look tired or bogged down. The raw honey and the orange can really brighten the skin, aiding in lightening brown spots and reducing wrinkles. Orange is similar to lemon in the way that it is a skin lightener. Sometimes less can be more with these sorts of ingredients or if you do this mask frequently, consider leaving the orange out from time to time. Bananas are high in potassium and moisture to hydrate the skin. They also work well as exfoliators to help remove layers of dead. This trifecta is a sure fire way to balance, tone, and brighten up that beautiful face of yours.
Ingredients
1 Fully Ripe Organic Banana
1 tbsp. of Raw (local preferred) Honey
¼ – ½ of an Organic Orange
Take the fully ripe banana and mash with a fork. Add the tbsp. of raw honey and squeeze in half an orange. Apply to face and neck in a circular motion and let sit for 10 – 20 minutes! Wash off with a warm clothe and splash face with cold water to close pores. Confession. This mask feels so I good I had to step away while writing this and whip one up for myself. I recommend you go take a peak in your kitchen right away, and do just the same!
Receive Our Weekly Inspiration and Top Stories
---