TRAVEL TIPS: HOW TO PACK THE PERFECT CARRY ON
by Lauren Marini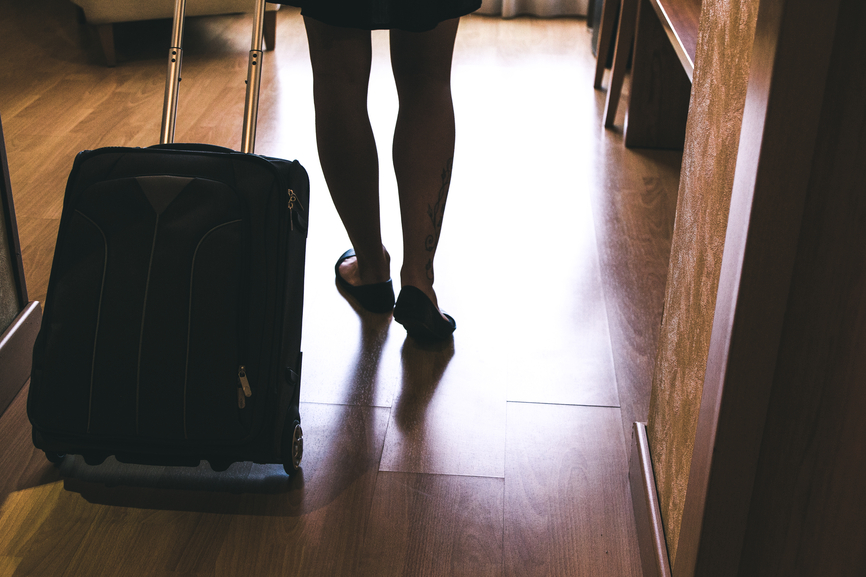 Let's be honest: travel can be challenging. With liquid restrictions, overbooked flights, and sky-high charges for checked baggage, it can seem overwhelming trying to figure out how to get everything in the right place. Luckily, we have a lot of seasoned travelers here on Traveling Mats to help you out! Read on for some pointers on how to better streamline your packing choices so you can fly with peace of mind.
Know your dimensions
TSA rules allow each traveler two carry-ons per flight. One bag for overhead bins and one personal bag, such as a purse or messenger bag that you can stow underneath the seat in front of you. Most airlines post the acceptable dimensions of your bags on their websites. Make sure you check it out ahead of time so you don't get stuck checking a bag you'd planned on keeping with you.
Keep your valuables with you
Delicate and sentimental jewelry, electronics, or anything else that may be fragile or of great value should be kept with you if at all possible. Don't chance having your luggage lost and your laptop or grandmother's heirloom pendant along with it. It doesn't happen often, but for your own sanity, anything you'd be devastated to lose should be kept where you can see it.
Pack your chargers
In this modern era, nothing is worse than attempting to call your ride upon landing only to realize you're teetering on 8% battery power. Most airlines are now equipped with plugs underneath and between seats, or USB plugs on personal TVs on the seat in front of you. Slip your cords into a small bag (a ziplock works perfectly as well) to keep all of your electronics at full charge so you don't have to stop to find a plug when you arrive.
Layer up
Temperatures can vary, but most planes seem to be kept at subarctic temperatures. Consider bringing a pair of warm socks, a large scarf that can double as a blanket, and a sweatshirt or jacket. I usually save space in my luggage and wear my jacket on the plane. It doubles as a blanket or pillow should I need it, but is easily removed if I get too hot.
Bring snacks
There's nothing worse than being hungry mid-travel! Lots can happen that can keep you from getting fed: restaurants can be closed, lines can be too long when you're short on time, you can be trapped on the runway for mechanical problems without food or beverage for hours (that last one is pretty terrible, but it does happen). Have backups in case of such emergencies. Choose things like trail mix, Kind bars, fruit, cut-up veggies (though be mindful that your dip counts as a liquid!) or even your favorite sandwich if you prefer to skip the overpriced plane food altogether. I find I'm usually hungrier when flying, so if you're the same, include foods that are high in protein to keep you satiated longer.
Pro-tip: avoid anything smelly, especially fish or fast food! It's rude to stink up the surrounding rows. You're all stuck in the same recycled air with each other for the next few hours. Be kind. Your fellow passengers will thank you.
Pack things you'll want right away in your under-seat carry on bag
I keep everything I know I'll need right at my fingertips. This includes my chargers, a book or iPad, an eye mask, any toiletries such as facial mist or hand lotion (plane air tends to be very drying), solid deodorant, tissues or wipes, earbuds, snacks, melatonin for longer flights, and my wallet and passport. You can usually get up mid-flight to retrieve items from your bag in the overhead bin, but if you can make it easy on yourself and have everything in front of you, do that.
Pro-tip: Don't attempt to lug huge amounts of toiletries with you. You can bring more items if you make sure you put them in smaller bottles or tubs, or save samples from Sephora to slip into your toiletry quart-sized bag (finally, a great use for those things!).
Plan for a bad layover
We all hope for easy flights, but with bad weather, mechanical issues, or medical emergencies, there's a lot that can go wrong, leaving you delayed for hours or missing your connecting flight. I always pack for this in my overhead bin carry-on, just in case. This ended up serving me well in a recent trip home from Italy where it took 36 hours to get back to Los Angeles, including an eight hour void in Newark. Include a change of clothes (including underwear!), face-wash, a toothbrush and toothpaste, deodorant, hair ties and a brush, and moisturizer. If you wear contacts, pack your solution as well in case of an unusually long flight.
If you have anything great tips of your own, feel free to share in the comments. Travel often and travel well, my sisters!
Receive Our Weekly Inspiration and Top Stories
---