Long Distance? No problem!
by Sarah Harvison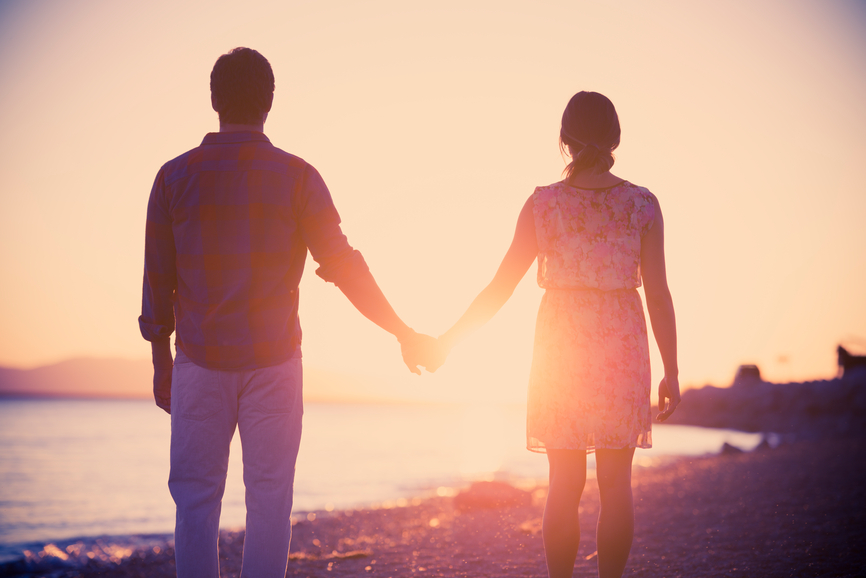 How bearing the distance can make your relationship more intimate than ever.
My girlfriends have joked around that the theme song to my life is 'international love' by Chris Brown. I am notorious for getting into particularly difficult relationships logistically and geographically. My first serious relationship lasted four years with innumerable trips across continents, attempted living in several cities and a whole lot of anticipation. That being said, through the countless texts, emails, snap chats, phone calls, hand-written letters, notes, surprises and visits; I discovered something, not only my independence whilst in a relationship but a much deeper sense of intimacy. Although longing for your partner in physical form their absence demands your commitment and communication on a whole new level. I truly believe a little bit of long-distance is a blessing in disguise and can serve as a reset button for your relationship. If you're faced with long-distance my recommendation is to look at it with a renewed sense of excitement and rest assured you will reunite with more passion than ever.
Here's why…
Let's give 'em something to talk about
You literally have to talk. When you're with your partner all the time, especially in the beginning stages the body does a lot of talking. You can divert difficult conversations. Granted in any relationship communication is crucial but when you're long-distance you really have to share what you're feeling. It is imperative to express through words how you feel about your partner and get really good at doing so. You are also absolutely certain to touch on some tough conversations: how does he feel about women keeping their last name? does she want to have joint bank accounts? do you see kids in your future? what is your biggest fear? what is your naughtiest fantasy? how do you feel about hooking up if there is a dog in the room? (seriously I've asked)
It provides the space for you to talk about things you may be shyer to ask in person and allows you to get into your partners heart and mind without their body distracting you.
The age old love letter
I have boxes of letters and cards from ex-boyfriends that I keep under my childhood bed. There is nothing more fun than receiving a handwritten note, card or care package in the post. One of my ex-boyfriends sent me a Valentine's Day package when he was out of town and instructed me to rip it open and dump it upside down on my lap. He had handmade close to 50 little origami paper hearts of various sizes and they spilled out over my bed (he was a quite the handmade gifting lover). I will never forget that. It's a forgotten form of communication reserved almost solely for bills, flyers and online shopping deliveries; it is beyond satisfying to send and receive snail mail and remains one of my favourite parts of bearing the long-distance rut.
Me, myself and I
You definitely spend a lot of time texting, sexting and skyping your long-distance lover but without your partner by your side you got a whole lot of me-time. The best part of long-distance is getting back to you. I always say two halves don't make a whole; two wholes make a whole so ideally you're still doing your thing in your relationship as is. However, the ability to dedicate massive chunks of time and energy to your girlfriends or group of guys is awesome. You might take up tennis lessons, really throw yourself into a passion project, get more involved at work, join a club. Take this time to treat yo-self and really get into something you've always wanted to or you want to do more of. It'll be such a turn-on to share what you've been up to in person when you're reunited and give you something exciting to share while your love is away.
Up in the gym just working on my fitness, be my witness
Every time I have done long-distance I have literally killed it at my fitness regime. Sleeping in cuddling and canoodling is reserved for when I'm sharing the bed baby. I'm not hitting snooze while he's away – I'm getting my behind to Rich's vomit-inducing boot camp and revelling in the fact my ass is going to look so good when he sees it next. I get on my mat more, lace up my runners, hit the trails and toss some kettlebells like a B.O.S.S.
Anticipation is the best aphrodisiac
MAKE. UP. SEX.
Okay more like reunion sex but you get the gist of it. You've been sexting for far too long. Skype sex is mildly awkward and really only exhilarating so many times. You've screenshot the naked snap chat, you have a folder of your own naked pictures and theirs on your desktop. You're ready for the real thing (which you've written to your partner in graphic detail more than once at this point). There is literally nothing better, literally. Your clothes are off before you even make it to anyone's room. Seeing your partner again is like those butterflies you first felt, you can't wait to touch them, kiss their face and be close to them again. Now you've talked about it all, you know them more intimately, your friendship has deepened and you finally get to connect with them physically.
Have you ever had that feeling where you actually can't even get close enough to your partner you're squeezing them so tight? Yeah, that's the good stuff.
There you have it folks. Don't look upon distance with dread but with desire. It's like a gas pedal for the intimacy in your relationship. Get to know their heart and mind better and I guarantee you'll keep the passion revving on high.
Receive Our Weekly Inspiration and Top Stories
---