How to find the best Online Yoga Site for you
by Danielle Ribaudo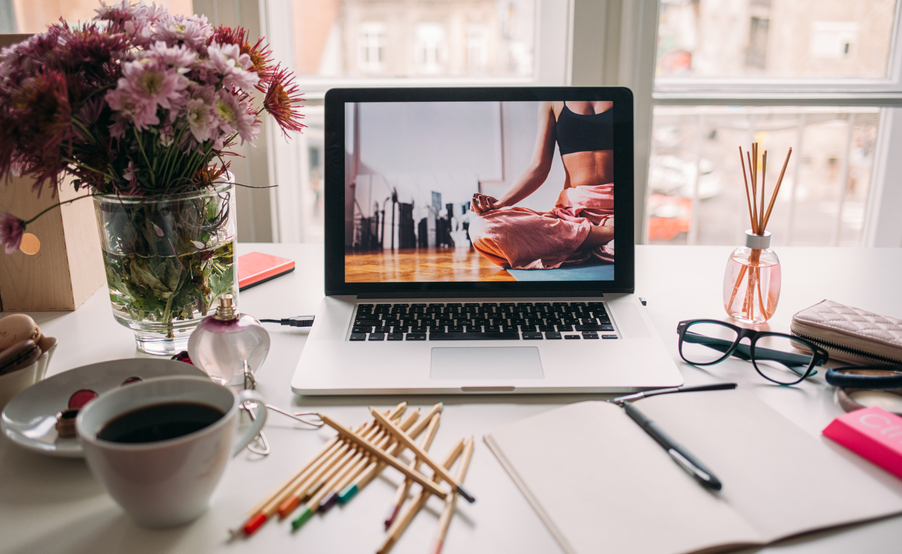 The world today is at your fingertips. With a click of a button you can access any information that your body, mind and spirit desire. Online yoga brings the opportunity to practice yoga with instruction right from your own home. Whether you are a seasoned practitioner, or just beginning your yoga journey, there is something out there for everyone.
With so many options of online yoga classes these days we thought it would be helpful to give a little breakdown of some the top online yoga sites out there.  Drum roll please…
The Yoga Collective Online is based out of Venice, CA. Their instructional videos are filmed in their public studio with top-notch instructors. They also have a full schedule of live classes you can attend daily if in the area.
You can get a taste of what they offer by checking out one of the many free postures tutorials they share for everyone or, with a fifteen day free trial get full access to the site – exploring things from asana to pranayama. If this feels like the right fit for you, it is only $12 a month or $130 annual payment. If you become an online member you can receive discounts on retreats and teacher trainings. Even better, fifty percent of their proceeds go to charity. Talk about a karma boost yogis.
Yogaglo is an L.A. based studio out of Santa Monica. You can take any of their classes from world-renowned instructors online, or if in the area in person for free! As long as you don't mind possibly being filmed. The in studio classes are recorded and used for their online classes, which is why they are free.
To get an idea of what they are all about go for the fifteen-day free trial. After that it is $18 a month. Which is still not bad considering that is the typical drop-in rate for most studios these days. Yogaglo offers a wide variety of styles and teachers with over 3,000 online classes to choose from. They are clearly categorized to make it easier for you to reach your goals. My favorite part is the section called "Beyond the Mat" where you can watch lectures on yoga principles and philosophy from professionals. Also, if you are on the go, like most of us yogis performing our balancing act, there is also an easy to use App that is compatible with most devices.
Yoga 30 is also a California based operation with an assortment of knowledgeable instructors and a wide range of classes to suite your needs. They film at a variety of public studios. Stay updated on their social media as to where, when and with whom they are filming with.
You can browse the video library or select from class style, duration, and teacher. To get to know more of their offerings go for the 7 day free trial. From there you'll know what is best for you. The $5 a day pass, which I thought was pretty rad, particularly for someone like me with an inconsistent schedule. But don't fret, if you like savings, look to the future and want to know what is to come next you can opt for $14 a month,  $71 for 6 months or, $134 a year.
Yogis Anonymous is a Santa Monica based studio with an array of international yoga teachers. They offer a full schedule of public classes at their brick and mortar studio daily, where they regularly film a selection of classes.
With over 1,000 online videos to choose from their classes are sorted clearly by the norm of duration, style, or teacher. There are additional options of various categories like yoga for busy moms, yoga for kids, core, beginner, advanced etc. One thing I thought that set them apart was a their six-part beginner series they offer in Spanish. This is gap that needs be filled. You can check all of it out for $5 a day, $10 a week or $15 a month.  Again, another place that offers the day pass and now we even have a week pass – which could be perfect for those business trips away from your local studio.  And let's face it, these options may just be perfect for those noncommittal types.
Eckhart yoga is giving us another line-up of credible instructors with over 1000 online classes in their video library and uploads new content weekly. They share classes ranging from beginner to advanced. You can even take it a step further and participate in one of their tailored programs. Such as, "Balanced Body and Mind", "Yoga Nidra" or "Yoga for Runners" they have a little something for everyone. The first month is only $1. Then if you like it you can stick with it for either $12.50 a month or $120.00 a year. They also offer pose breakdowns and a yoga dictionary for non-members to view. This is so beneficial for any practitioner, yoga teacher or student alike.
Udaya is also based out of Santa Monica California. They have a wide range of class styles and levels that vary in length from 5 minutes to 60 minute​s. A highlight for some may be the section of "Teacher Tips". Here they take 5 minutes ​to break-down postures and offer a greater understanding of what you are trying to accomplish. All of their videos are filmed in HD using specialized cinema camera equipment and an experienced film crew. The goal being the ultimate at-home yoga experience.
Udaya offers $12 a month membership. With that you  get unlimited access to their library of instructional videos, which they keep fresh by adding five new classes a week, and you'll also get secret access to Udaya Entertainment's specialized fitness programs and wellness challenges, free-shipping from any online orders from their store, invitation-only access to various events, such as yoga retreats, workshops and trainings.
Yoga Vibes has a wide variety of Global instructors who they film in different studios all over the map. They have over 5000 videos in their class library offering a wide range of styles, levels and durations. With such a wide selection you are sure to keep your practice fresh and evolving. They also offer their members courses with specific direction to be of most benefit to them. So, there is a little something for everyone. You can learn more through their fifteen day free trial and then choose between $14.95 a month or $149.95 a year.
So there it is! The skinny on what seems like just the surface of the cyber world of yoga instruction these days. Try a few different sites and see what resonates with you. If you don't know where to begin look for the site that is offering you something you don't already have in your practice, or maybe try that teacher you have always been curious about. There is a little something for everyone, you just have to be willing to find it. And how lucky for us that we get to experience all these different teachings right at the touch of a button.
Receive Our Weekly Inspiration and Top Stories
---