Get GREEN – 5 green smoothies to make NOW
by Sarah Harvison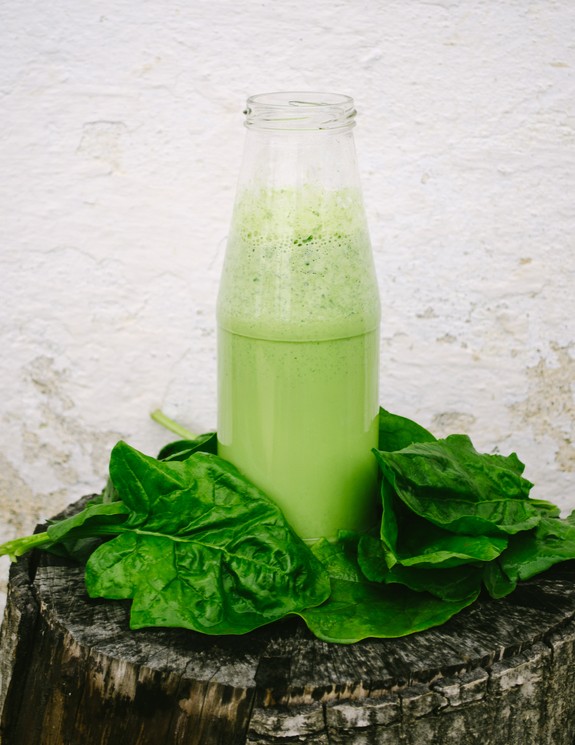 3X a week I swap my yoga mat for kettle bells, my top knot for a braided ponytail, don some flashy kicks on my normally bare feet and hit the local gym for boot camp. Not only is my trainer a picture of absolute strength and fitness but a kick ass motivator with vast knowledge of diet and nutrition. He challenges us to follow a strict meal plan (which I convinced him to include red wine because come ON) and constantly shares his philosophy that training is 20% and nutrition makes up the other 80%. I have committed to his meal plan suggestions and although I have been temped to sneak a treat or two there is literally nowhere to hide because… did I mention? I LIVE WITH HIM.
Now, I love a little vino and some chocolate like nobody else. I also love cookies and treats and well, okay I love food. I love to experiment with smoothies and have found some absolute winners that not only pack a big green punch but satisfy your sweet tooth too.
I have a smoothie shelf where I store most of the ingredients found below. I used to dabble in protein powder (VEGA is incredible and vegan) but lately have been sticking to the basics, creating my superfood smoothies with ingredients from the earth!
Harv's Basic Straight Up Green
This smoothie is best for a restart when you need a really straight up cleansing smoothie.
It's full of healthy fats from the avocado and coconut as well as green goodness from the kale, spinach and spirulina. Chia seeds and hemp hearts pack a protein punch. The dates and banana add a little sweetness.
A handful of spinach
A handful of kale leaves
coconut milk
2 medjool dates
1TB chia seeds
1TB hemp hearts
1 tsp. spirulina
half an avocado
1 banana
ice cubes as needed
Wake Me Up before you Go-Go
This coffee cacao green smoothie is a great post-workout blend when you have a sweet craving.
I have also indulged and made a mini-version for dessert. Sprinkle cacao nibs on top with a splash of coconut milk and sliced strawberries for a decadent treat (you can't even taste the greens!).
A handful of spinach
A handful of kale leaves
nut milk
a banana
1TB cacao powder
1TB chia seeds
1TB maca powder
1TB hemp hearts
2TB cacao nibs
1TB instant coffee grounds
ice cubes as needed
Peanut Butter Jelly Time
The perfect smoothie for when you're extra hungry.
The nut butter keeps you full and adds a big dose of protein. Goji berries are a fiber filled superfood chock full of antioxidants and have been used in Chinese medicine for thousands of years. They are also full of beta-carotene, which helps promote healthy skin. I use this smoothie as a meal replacement for breakfast or lunch when I am feeling in need of a lighter meal.
A handful of spinach
A handful of kale leaves
nut milk
a banana
2 TB nut butter
2 TB goji berries
1 TB hemp hearts
1 TB chia seeds
ice cubes as needed
Basic Matcha Green Tea Smoothie
Matcha has so many incredible health benefits and is an incredible antioxidant – not to mention, it's delicious.
It is a premium product and will be one of the most expensive items in your smoothie cupboard but it is well worth it. I have matcha everyday and it is incredibly energy boosting but proven to increase your metabolism. A teaspoon of matcha is equivalent to 10 cups of green tea. Matcha is the entire leaf instead of the benefits steeped from the leaves in a cup of tea. I have been increasingly swapping out coffee for matcha in my morning routine and my body loves me for it.
A heaping teaspoon of pure matcha powder*
A handful of spinach
1TB coconut oil
nut milk
a banana
1tsp agave
ice cubes as needed
(add: strawberries, blueberries or pineapple to make this a tropical or strawberry green tea smoothie.)
* Dissolve the matcha in hot water before adding to blend
Spice up your life!
This tropical adventure includes a kick of ginger not for the faint of heart!
Ginger aids in digestion and is one of my favourite flavours – it's EVERYWHERE in Bali. I think I had 7 iced ginger teas a day when I lived there. The newest trend in healthy sweeteners is agave nectar, often called agave syrup. This is a natural sweetener similar to honey that come from a desert cactus like plant – so basically you're eating a vegetable… The cucucumber and mint add a refreshing twist. This is a great smoothie to have on a hot summers day or even to mix rum or tequila into as a summer party cocktail.
a handful of spinach
nut milk
½ C. coconut water
mango or pineapple chunks
1/3 of a cucumber
½ an avocado
1-2 of fresh minced ginger to taste
1tsp agave
ice cubes as needed
So there you have it beauties. When I am up in the GYM just working on my fitness, be my witness… I am always stoked to come back and blend up one of these gems.
Sidenote: I also feel very Michelle Rodriguez-esque in girl fight when we get to box and I wear my hair in a high braided ponytail. You gotta look the part right?
Sending you big, green, smoothie love.
Receive Our Weekly Inspiration and Top Stories
---