Beginners Guide to Crystals
by Jacqueline Smyth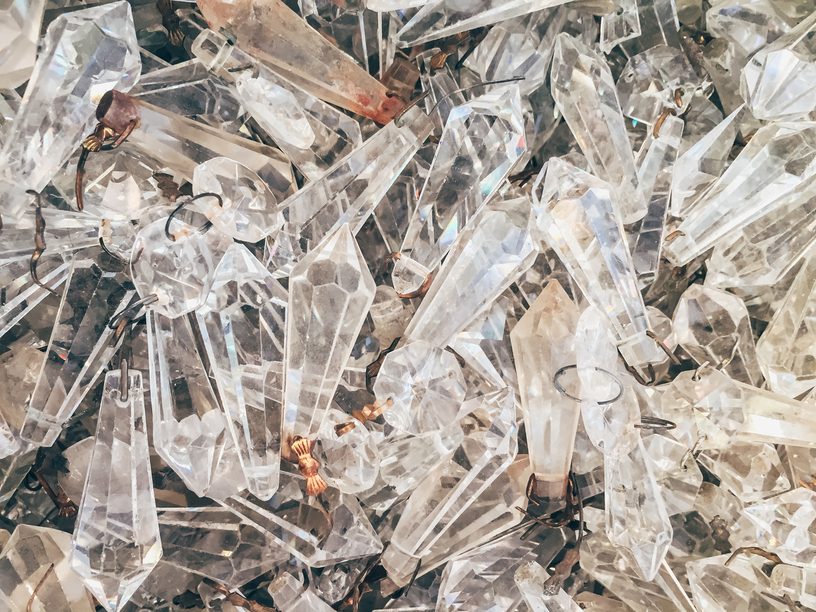 Gemstones have been all the rage as of late… But mostly, when I look for crystals, it gets a little confusing. There's a lot of descriptions for the crystals themselves separately, but how do I know which one I need for my specific wants and needs?
Well, that's where the idea for this article came up. I wanted a go to list for the most important topics for me, and by what I'm seeing popping up on newsfeeds on every social media platform… A lot of people are going through the same exact things.
Along with the help of my favorite ladies at Energy Muse, we've put together a list for your needs in work, love, and guiding that inner light of yours.
May it burn as bright as it can… And hopefully these little gems can help.
Workmode.
If you're starting a project:
Chrysocolla
 is a calming stone full of green and blue hues, which are the hues of Mother Earth and is an indication that life is fluid. It holds the energy of movement, possibility and is powerful reminder that the world is at our hands.
To bring money and abundance:
Aventurine
 is the stone of opportunity and is known to be one of the "luckiest" stones. It is especially powerful for manifesting prosperity and wealth.
Citrine is a 
powerful gemstone for manifestation, not just for wealth, and can help you achieve your goals and bring your intentions to life in all aspects.
To bring in creativity:
Vanadinite
 is a creativity booster and is connected to our sacral and solar plexus chakras. It strengthens your ability to move through your creative or work endeavors, allowing you to be more productive, focused and creative.
For purpose and drive:
Garnet
 is a power stone. It dissolves energy and emotional blockages within your body, which helps you steer clear down your purposeful path. It alleviates feelings of fear, worry or panic so that you feel firmly grounded and connected to yourself in the present moment.
To stay focused and bring clarity:
Clear Quartz
 stones bring clarity of the mind, helping you to focus and become clear on your dreams and desires. When adding Clear Quartz to other stone combinations, it will magnify the energies and your intention.
Self Love.
Rid yourself of fear
 and anxiety: 
Aragonite
facilitates the release of negative energy, anger, anxiety and fear from the body. They radiate energy outwards in all directions, beaming rays of light and love out in all directions.
If you want to rid yourself of old patterns:
Fluorite is a healing crystal that helps us to forgive ourselves and others. In the process of forgiveness, we are able to go in, clear out old patterns that are no longer serving us to start anew.
For confidence:
Carnelian
 brings a surge of life force, creativity and confidence. It aids in the establishment of self-confidence by helping you discover the personal power and courage that lies within yourself.
To stay connected to a higher power:
Labradorite
 purifies your energy, connects you to your highest self and helps unravel your destiny. It also strengthens your personal energy and fills you up with hope and happiness.
To bring community:
Amethyst Cacoxenite initiates a higher level of concepts, ideas and innovations to humanity. It clears your Third Eye and Crown Chakra so you can see more clearly that the world is one and provides a loving, unified connection between all.
If you're in a point of transition:
Desert Rose is a crystal that aids you in busting through blocks. It brings mental clarity, quiets your worries and stills your mind so you can easily transition into the next stage in your life.
To be in the flow:
Aquamarine
 is a crystal that is comparable to the ebbs and flow of the ocean. It connects you to your own natural energy and promotes inner peace, tranquility and calmness.
The Heart Space.
If you're healing from a broken heart:
Epidote
 is full of clearing and grounding energy that is directed to the heart. It has a solid healing effect and lets you know on a soul level that you are going "to be okay". It shows your soul that your life will go on and expand from here.
If you're looking for love:
Rose Quartz
is the most well-known love stone and is especially effective for women as it carries a soft feminine energy. It opens your heart chakra, promotes unconditional love and 
attracts more love into your life.
For a Strong Heart:
Malachite
 is a powerful love gem, especially for men, that radiates the ideal energy frequency for stimulating and balancing the heart chakra. It carries an inspiring vibration that attracts new love and breaks old love patterns.
For clarity in who you'd want to attract:
Either one of the stones above combined with 
Shungite
 grounds us and shows us who we really are so we are able to attract more of what we are looking for.
Because my ladies love the adventures.
For safety on travels:
Moonstone
 has healing properties that bring good fortune, enhance intuition and are a very powerful stone for protection while traveling.
Let me know in the comments below what you think! Do you have any crystal needs that weren't covered?
Love and so much light to you all. May this list inspire you and make it a little easier to segue into the world of gems.
Xo,
Jackie
Receive Our Weekly Inspiration and Top Stories
---