A little Pink Mylk to brighten up your day
by Grace Laura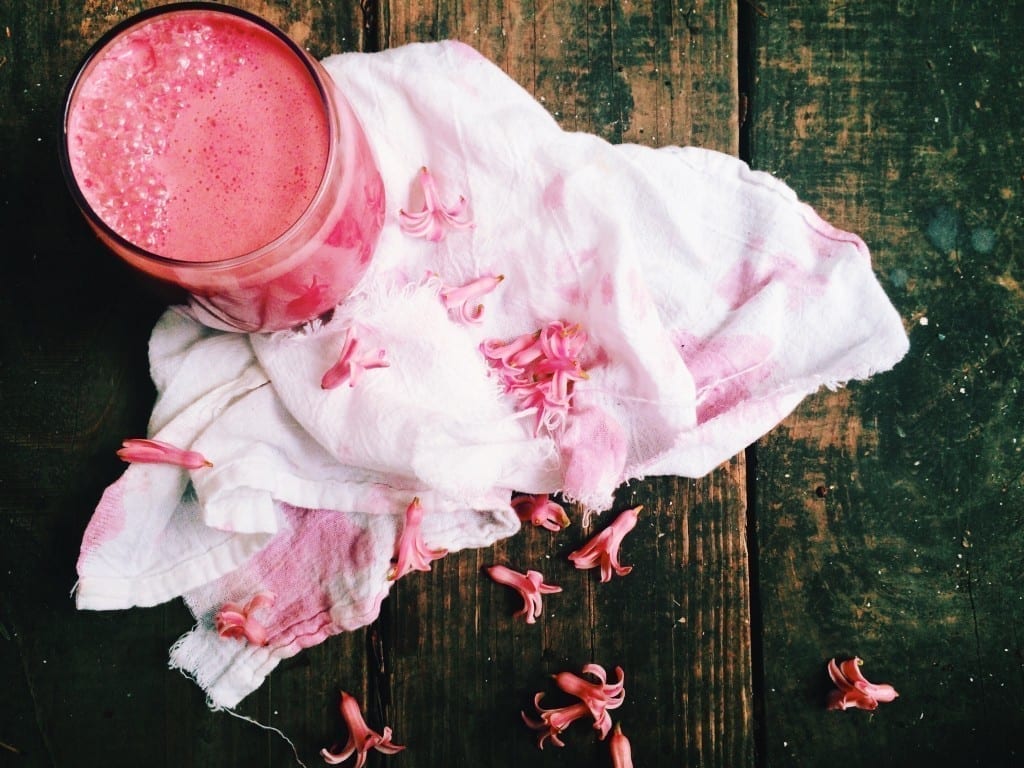 So I've been on somewhat of a beet craze lately. Making anything and everything from breads to desserts. Roasting, soaking, fermenting, juicing. You name it, a beet was in it.
As far as picking a recipe to share… don't even get me started.
Then one morning, while preparing nut milk and juice it dawned on me. Juice with milk! It makes perfect sense, after all. I am no stranger to green milk, but I figured this takes it one step further.
I choose to not strain my nut milks.  You can if you prefer, but I treat my milks like an afternoon snack, or dessert so to speak.  Making a ritual of sipping them out of my tea cup and reading Dorothy Parker.  Of course when I say sipping I mean I chug it before I actually step foot out of the kitchen and by reading I mean binge watching Grey's Anatomy.
So without any further delay, here's the recipe!
Homemade Pink Mylk
Yields 5, 8 oz servings
1 c. Soaked Cashews
4 c. Purified Water, plus extra for soaking
1 c. Beet Juice
1 Vanilla bean, insides scraped
3 Tbsp. Maple Syrup
pinch of salt, cinnamon, nutmeg
 Soak your cashews in a bowl overnight.
Discard your soaking water and rinse cashews.
Place soaked cashews, water, juice, vanilla bean, maple syrup, salt, cinnamon, nutmeg in blender until you get that desired creamy consistency.
I've used a Nutri Bullet and Vitamix for this recipe and they both make for that perfect creamy mylk.
Pour into an airtight glass bottle and store for 3 days in your fridge.
You can also use this approach with almonds. Just make sure to remove the skins once they're done soaking.
Carrot juice works great with it and I'll replace the maple syrup with 3-4 dates, salt and omit the spices. Feel free to add more juice. The beauty of these drinks is how simple, delicious, and how quick they are to make.
A great way to pump up your life with a tasty dose of A, B, C, beta-carotene, potassium and magnesium.  If you find yourself reaching for something sweet or I would suggest drinking one of these and see how you feel in a couple of hours.
So that's it! Hope you guys get really weird with your recipe testing and let me know how it goes in the comments below!
Cheers!
Receive Our Weekly Inspiration and Top Stories
---