5 sweet dance trends to make you sweat
by Zoe Welch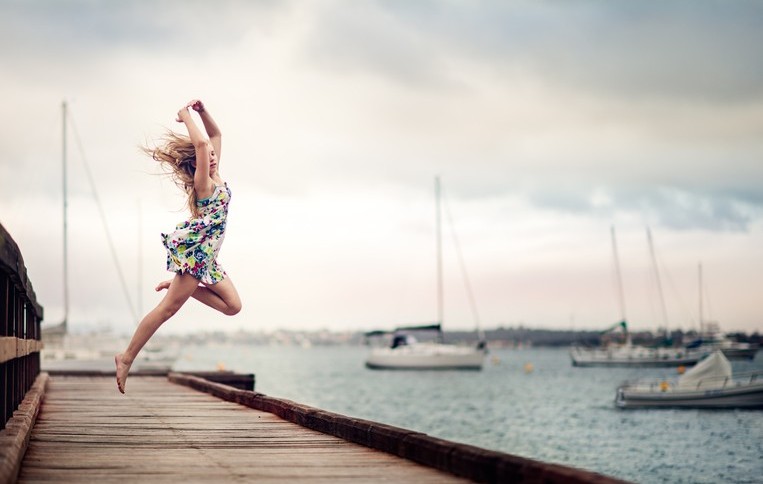 So you're saying we should dance our troubles away?
2014 was nothing short of fantastic, but following the annual IDEA Fitness Convention held in Los Angeles last summer, we have our sights set on the new year, and the new dance fitness workouts that are shaking up the traditional model of a cardio dance workout. These innovative classes are mixing it all up to deliver fun, sweat-inducing sessions, amazing results, and maybe a few raised eyebrows. One thing is for sure; we can't wait to jump on the dance floor to try these unique and funky classes! 
1. bodyART Training
Robert Steinbacher, award-winning choreographer and Swiss fitness expert, combined his experiences as a dancer and a therapist for special-needs children to create this dynamic bodyweight workout that's already a hit overseas. BodyART was born after Steinbacher realized that many of the therapeutic exercises he was using with his clients could be just as beneficial for people without physical limitations. "Healthy looks, strong condition, flexible mobility and mental well-being" are the effects promised by this program, which integrates dance, functional training, physiotherapy, Tai Chi, and yoga for a tough yet restorative workout.
Find it: At Equinox clubs, select gyms, and on DVD. 
2. Morning Gloryville
Imagine a monthly coffee-fueled morning dance party, complete with free massages, yoga, smoothies, and a lineup of top DJs spinning high-energy beats. Totally LA, right? Trust us on this one…Morning Gloryville is a legit, totally-sober (no drugs or alcohol allowed), free-spirited, well-lit party. Attendees rock out in beautiful, wide-open spaces to heart-pumping music alongside a motivational dance team who's there to inspire everyone to keep moving. Annie Fabricant, who was hired in January to be New York's first "Glory Agent," says she fell in love with this dance fitness phenomenon while visiting her hometown of London in December and was hooked by the positive energy. "I was so inspired," says Fabricant, "I immediately asked its co-founder Samantha Moyo if I could bring it back with me to NYC." This immersive morning dance movement says it's "on a soul-shaking mission to turn clubbing upside down and transform mornings into something truly remarkable!" 
Find it:  Around the world, and in a city near you! 
3. Bokwa
We hope you still remember your ABC's! If not, start studying your alphabet soup before you check out this latest dance class craze, based on those 26 letters. In Bokwa, you'll "draw" letters and numbers with your feet while performing a calorie-torching cardio routine. We can't help but think this would have been a perfect addition to the Schoolhouse Rock lineup, and love that Bokwa's origins trace the map from an L.A.-based instructor who used elements of South African dance to bring the steps to fans in Europe, where it is already all the rage!
Find it: At NYSC, other select gyms, and independent studios. 
4. Animal Flow
Bodyweight training expert Mike Fitch partnered with Equinox to create Animal Flow, a killer class that taps into your primal instincts to get you moving your body in ways you might only find while hanging out with Tarzan. You'll go through a series of functional bodyweight movements that fuse gymnastics, acrobatics, parkour, capoeira, and breakdancing, all while staying low to the ground and engaging many muscles at once (think of the way a lion stealthily stalks his prey). But don't be fooled by the playfulness—this unique class is a serious, drench-you-with-sweat workout!
Find it: At Equinox gyms and on DVD. 
5. GROOV3
GROOV3 is the sweatiest and happiest choreographed dance party to come out of Los Angeles, and is quickly making its way to cities around the country. Targeting those that want to learn how to dance, as well as those who come from a dance background, GROOV3 puts an emphasis on boosting it's students confidence, building communities, and putting the fun back in fitness. With amazing DJs spinning the hottest jams in class, and simple combinations made for all levels, this sweat and smile inducing workout is elevating the dance fitness experience and will absolutely change the way you workout! A grassroots initiative to motivate, inspire and unite communities through dance, GROOV3 was founded in LA by dancer/choreographer Benjamin Allen, and the "GROOV3MENT" was designed to span the globe and introduce dance, and the benefits it holds, to the general public. GROOV3 says that "young, old, rich, or underserved, we have seen dance be a common thread that brings EVERYONE together." Boogie your way to one of these high-energy, feel-good classes and we promise you'll soon be hooked to their mantra of  "Dance, Sweat, Live!"
Find it: Studios and gyms across the country and online classes dubbed "Living Room Sessions."
Receive Our Weekly Inspiration and Top Stories
---