5 ways to take to create a new (pandemic- friendly) routine
by Leah Fisher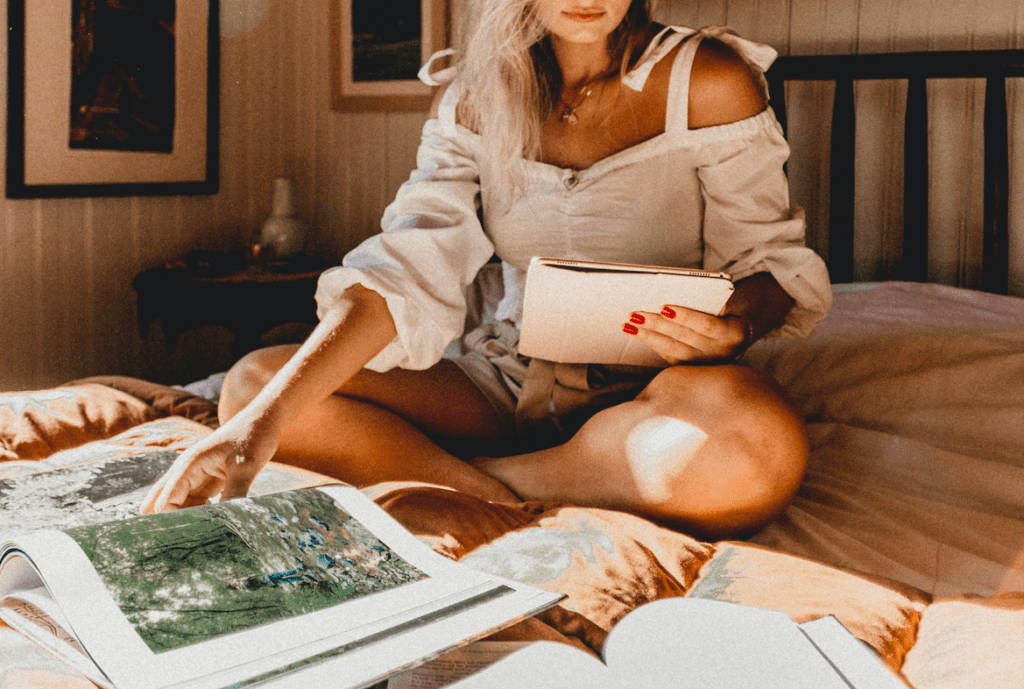 Trying your best to thrive during these extraordinarily uncertain and stressful times?
I feel you, because I am too.
All around me, I see my family, friends, neighbors, and co-workers employing various strategies to navigate through the uncertainty. I am astounded and reassured by their resilience and the creativity they employ to find strategies that work. And over and over again I am reminded of one thing:
Self-made or externally created routines and rituals, when adhered to, help create a more stable environment, which always has a net positive impact.
Always.
We live alone. We live with significant others, and maybe children. We live with parents. We identify with groups based on our interests, gender, sexuality, race, and profession. I mean, as far as the 'right now' is concerned, it's universal that we need to embrace creating and owning a new routine, whatever that may look like…
Face mask in the middle of the day? Why not?! Athleisure wear for days? Sure. Exercising with the help of a virtual class? Hell to the yes.
The possibilities are fairly endless (except for standing less than 6' apart), so here's a few basic steps to create days that feel good, fulfilling, and gear away from the whole- I've got handcuffs on- kinda mindset.
Use your planner
I know you've seen all the memes about burning your planners, but just because your life has changed and your regular schedule is up in the air doesn't mean you need to toss that leather-bound beauty just yet.
The first time I opened my planner during all of this, I felt overwhelmed. I was sad facing all the cancellations and unsure what I could commit to. I felt silly "managing" activities that I had never formally scheduled before, such as chatting with friends. But as it turns out- I like seeing my Zoom happy hours written in on Friday afternoons. Putting a plan in writing can give it legs that it might not otherwise have.
And as for the activities that we're used to seeing in our planners, we might not be able to do them in the way we always have. So to offset the disconcerting notion that you can't do what you really want when you want, set a time that works for you and stick with it. This approach gives an element of control, which all of our minds are currently grasping for.
I used to work out for an hour or more at the gym. Now I allocate 30 minutes for a jog outside and then 30 minutes for yoga and/or meditation. This solution allows me to move my body in the morning and in the evening. If I don't feel up to it, I can certainly cut short the time I've devoted to these activities, but I've at least meaningfully carved out the time if I care to take advantage of it.
Helpful hint: Plan your week ahead. Make sure the days are fluid, but constructive. Remember, routines and rituals give stability. Win, win.
Editor's note: f you don't have a planner, or feel like it's a good time to start fresh? As we were doing research for this article we tried out a few planners, I ended up ordering this one, by Wordsworth, and LOVE it. I'm a planner snob- and I'm pretty sure I've found my soulmate in a calendar.
Put on a beginner's mind, and explore
There is no shame in enjoying yourself right now. None. Craving a Taco Tuesday? Make a note. Desperately needing to give yourself a manicure? Jot it down.
Use this time like a personal retreat. Try the things that sound amazing, but be mindful of an overload.
A friend recently shared with me that it was her desire to exercise four times a week, but given her work schedule and safety concerns, three times per week was more manageable. Maybe you'd love to schedule a reading session every night but you also want to meditate, so you decide every other night is more reasonable.
There's a fine line between creating a schedule that allows you to feel accomplished, and putting so much on that you feel overwhelmed. This is a season to try new things that you've never been able to- and it's also a season to listen, so if you're getting feedback that it's too much for you, or you're not into it?
Ditch it. No explanation needed.
Let life, and your mindset in COVID-19, surprise you
A friend of mine has always never had any interest in my yoga classes- or really any yoga classes at all, but she told me that her gym is streaming yoga classes right now and she finds them strangely calming. Open your mind to the possibility that ideas or tasks or activities that did not appeal to you before this crisis, such as working out at home, may be a wonderful surprise. Think of it like revisiting a Netflix series that didn't grab you the first time around. Sometimes a different mindset and context can change the way we receive and process information in the world around us.
In many ways, this is a time of scarcity. That concept will look different based on who you are and what your life looks like. Maybe you have less personal time. Perhaps your finances are tighter than usual. Most of us are certainly facing less freedom overall. While there are negative implications to these shortages, I would like to focus on a very positive point.
Psychology Today published an article in 2015 speaking to how scarcity, or a situation of limited resources, impacts our mindset. The author pointed out how the absence of choice will often lead to folks to reprioritize, making them "more effective". You are entitled to feel bummed about what you don't have and can't do right now, but you can also bask in the glory that is the magic of your brain letting you enjoy and make the most of what you do have and what you can do.
Don't forget self-care
Self-care does not just come in the form of a virtual yoga class or time to read. It is also critically important to abide by hygienic parts of your daily routine even though you and I both know that you may not interact with another living soul during the day. (I know, I know, we shouldn't have to put this in here… but come on, we all know how easy it is to overlook).
These habits don't just keep us physically clean, but contribute meaningfully to our mental health. You don't have to shower first thing in the morning, but shower every day. You don't have to wear business casual or jeans, but put on clean, fresh clothing. I even wear earrings every day because it is a little something that helps keep me on the right side of sorrow. I have a good friend that's been blowing her hair out. Just. For. Her.
Stick to your normal eating routine. It is so easy to go off the rails in either direction when you are sheltering in place.
Case in point:
Normally you are a 3-5 meal a day person and now you've become an all-day grazer.
You are usually eating every couple of hours and now you are skipping meals altogether.
You typically try to adhere to a no food late in the evening rule, but with the hours in the day melding together, you find yourself eating well after your normal dinner time.
Sound familiar?
These changes can have a profound impact on our physical and mental well-being. Proceedings of the Nutrition Society have advised in its publications that sticking to a regular eating schedule is incredibly beneficial physically. Basically stated, "when you eat is just as important as what you eat".
Don't abandon your self care habits, and yes… eating is self care, too. This adherence will be pivotal in helping transition back to "normal" when that is upon us.
Healthy body, healthy mind. This much never fails.
Be with other humans
If you google 'isolated people problems' (yes, I know it makes no grammatical sense whatsoever, but I was really curious to see what I could find by typing in a very vague blanketed phrase) you will find pages upon pages of articles and studies and research displaying people that are isolated are sitting ducks when it comes to almost every angle of a threat.
Depression
Anxiety
Fear of others
Negative esteem
Diabetes
Heart Disease
And the list goes on. That's right, not only does isolation affect the mind- it can also really alter physical ailments as well. It can exacerbate something you are already struggling with or cause an issue that you were never faced with before. This fact is not shared to scare you at all, but to encourage you to take self-care seriously.
It goes without saying that you should abide by social distancing rules and the protocol established by the powers that be. However, within those parameters, you should also incorporate a spot or two of interaction into your day. This is not just important if you live alone. Even if you live with someone, it is easy to get caught up in the separation caused by new routines. "Loneliness can be damaging to both our mental and physical health. Socially isolated people are less able to deal with stressful situations". And we know that it is more imperative than ever to be able to cope with stress.
Talk to someone about something other than COVID-19.
Have a date night via FaceTime. Schedule a happy hour or a coffee meet-up. Look up articles, try a new recipe, and share, share, share. I had a book club meeting on Zoom and it was lovely. Whether you lean towards extroversion or introversion, this is uncharted territory for us all.
Fellow humanity can be surprisingly grounding and life affirming.
The exercise of creating a new routine amongst this madness is truly an opportunity. Don't get stressed or stuck on how far you've strayed from your "normal" routine. You can always look to others for inspiration to create a routine that works but at the end of the day, this is entirely a custom job. And by the way, there is something truly freeing and fantastic about that.
Take each day as it comes, make changes as needed, and have faith that eventually we will find our way back to a routine that feels more normal.
Remember, in the endless possibilities available, maybe you create a new normal that feels better, and more authentic to you than anything you've experienced before.
Photo by Jonathan Borba on Unsplash
Receive Our Weekly Inspiration and Top Stories
---