10 Must Haves for your Next Yoga Festival
by Sarah Harvison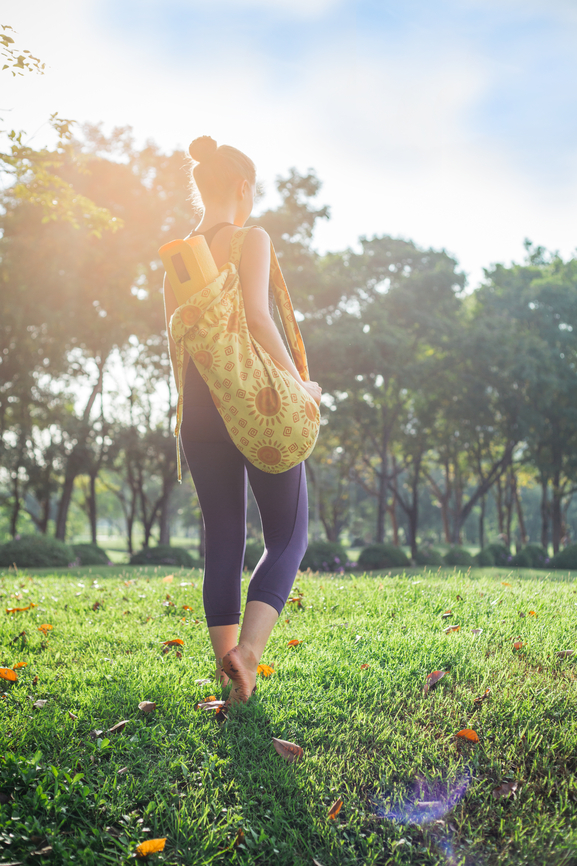 So you're going to a yoga festival…
I have been blessed (and worked my butt off) to attend my fair share of yoga festivals, workshops, events, trainings and retreats. One of the biggest yoga festivals of the summer is held in my city and I have the privilege of being involved in a large part of their festivities. The hometown festival is no problem but for the majority I am plagued by a serious condition. I call it: obsessive over packer syndrome.
On my way to Australia I had a layover in Texas. The security agent burst into laughter as she scanned my carry-on which was chock full of shoes, and shoes only… (Hey, they are the heaviest items – wheel that bag with a smile on your face and try your best not to grimace as you lift it into the overhead compartment; like it's light as a feather of course).
I have (painstakingly) selected my top 10 must-have items to sweat it out on your mat, relax with a coconut by the pool, dance all night to DJ Drez or explore the local artisan market; all while looking effortlessly cool like Seane Corne's perfectly buoyant hair.
    1. Word to your mala.
I love my mala beads. My good friend Rebecca started a company Mala Earth and she explains that "…Mala Beads have been worn for thousands of years in the traditions of Buddhism, Hinduism and Yoga. They are worn for their spiritual and healing qualities as well as a tool for certain types of meditation. The purpose of a Mala depends on the wearer's needs and when worn by intuitive prescription based on the type(s) of stone, it is a powerful amplifier of mental, physical and/or spiritual needs." I love rocking my mala beads to yoga class and placing them on the top corner of my mat as a reminder of what I value most, what I want to cultivate in my life and as a physical representation of prayer.
    2. The onesie.
Are six onesie's too much? NEVER! I am a devotee of the onesie. All of mine are from lululemon athletica or The Lab on Broadway and Cambie in Vancouver, BC. Honestly there is nothing better. Pull on your one-piece yoga ensemble, toss on a mala, grab your scarf and you're good to go. No fussing, no moving – an easy one stop yoga piece. Throw a loose fitting tee or crop top on top and you're good to go. You'll have people asking where you got it all day. They aren't a year round thing so I make sure to grab them when I see 'em.
Tip: these are the perfect choice for any inversion workshops.
    3. The muumuu.
Now I think the muumuu has a bad rep. This shapeless oversized dress is PERFECT for post class or destination yoga festivals and retreats. I love my one size fits all floral numbers. I have a gorgeous blue and white floral dress from Billabong AUS that I have tossed on for many a run to the surf or to grab a coconut from the closest vendor. Gorgeously freeing over a bikini or your sweaty yoga undergarments.
    4. Yo sunnies.
I have an affinity for sunglasses. Classic cat eye, wayfarers, aviators – they all have a time and a place in my wardrobe. For your festival experience, I suggest choosing one pair you know and love. I opt for my TOMS oversized sunnies as they truly go with everything.
    5. The multipurpose scarf.
A big printed scarf is pretty much crucial. I have used this as a boho hippie-esque du-rag when my hair is particularly sweat induced. I have used it as a yoga mat strap when mine when MIA post Baron Baptiste master class and lay it out as a blanket and all around gathering space as Xavier Rudd killed it onstage in Bali.
    6. The 'it' bikini.
It's small enough to bronze the better part of your bootay but big enough as to not offend the small children generally running around only in their undies or swimming nude anyway (so we're talking small…) I really recommend your favorite go-to bikini. It's easy, it's small, you can whip it on and off easily, not too many bells and whistles and enables you to get a kick ass tan. I personally will always love Mara Hoffman, Frankie's Bikinis, Acacia and L*SPACE.
    7. The LWD.
Forget about the LBD (little black dress) for me it's all about the Little White Dress. Yogi's love to throw all-white parties and even if the attire doesn't call for white you can bet your bronzed behind that you will look STUNNING in your brilliant whites. For added festival readiness make sure it's crocheted or lace – BAM!
    8. Is that Kelly Kapowski?
I love me a good ripped up, light wash, high waisted denim short. Paired with your boho scarf fashioned into a top or your favorite bikini top and boho du-rag, grab those mala beads and you're ready to align your chakras and dance to the beat of a didgeridoo.
    9. The hat.
I recommend a good old trucker hat for yoga festivals. I feel a bit like Michelle from Full House when I rock it backwards with my Kelly Kapowski shorts but hey I'm down. There is often the opportunity to purchase a hat from the festival which is an awesome momento to have. I got a wicked peace sign trucker hat in O'ahu that helped support the local community clean up the beaches. Cool, unique and philanthropic – snapbacks are making a comeback.
Ps. You got it dude!
    10. Thongs (get your mind out of the gutter).
Listen, you're going to be barefoot most of the time (or so I hope) but there comes a time when you gotta walk across that black ashphalt or the restaurant wants you to wear shoes (bummer) and you BET your ass(ana) that there are about 200 pairs of black havaianas kicking around. Be selective in your thong choice, I love havaianas like nobody's business but I make sure mine stand out so as not to get swiped by some other yogi-babe.
So there you have it blissful boho yogi babes. You will be tempted to ram your carry-on full of shoes and fill your suitcase with gorgeous long dresses and a colourful array of bathers. I promise you, fill your small carry-on with these items and you won't look back.
Plus, skinny-dipping is totally acceptable on yoga retreats – you're already wearing your best outfit…
With love, kindness and adventure…
Receive Our Weekly Inspiration and Top Stories
---