I whip my hair back and forth! a hair masque to revive and restore
by Elena Alarie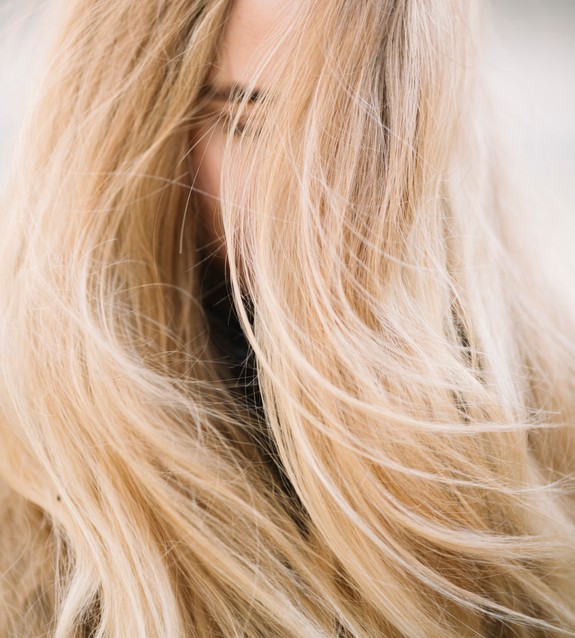 Healthy hair begins with a healthy diet by incorporating a good selection of nutrients, vitamins and minerals to help grow your vibrant, shiny, strong hair. Omega-3 fatty acids, vitamin A, C, D, biotin and protein play an essential role in a well balanced diet to maintain healthy follicles. How we nourish on the inside is as important as how we treat our skin on the outside. The skin is our largest organ and everything eventually makes its way into our bloodstream. Using natural products is integral to our overall health to ensure that toxins and other chemicals don't lurk in our blood stream and disrupt our hormones.
My journey to switching over to natural and organic products or making my own began over five years ago. I was diagnosed with an autoimmune disorder and quickly noticed the healthy locks I once had were beginning to thin out. When your immune system is attacking healthy tissues, it's common to suffer from hair loss, brittle hair and inflammation on the scalp. I have the most nourishing hair masque recipe that will hydrate, repair and restore your locks. Before we get to the recipe, here are the top seven ingredients that you'll need and their benefits to nurture and maintain healthy hair and scalp.
Avocado oil.
Rich in a wide variety of nutrients, vitamins, minerals, protein and healthy fats. It contains vitamin A, D, E, folate, magnesium and iron; all are essential for nourishing hair follicles. It helps to strengthen the hair, condition scalp and hair strands, control frizzy hair and split ends, regulate hair growth, and is considered a natural dandruff treatment; this is truly a superfood for your hair.
Walnut oil.
Walnut oil combined with avocado oil? TOTAL powerhouse. This nut oil is commonly used as a carrier oil in many skin care products for its nutritious content. It is high in omega-3 fatty acids (moisturizing and nourishing on the scalp), helps to combat dandruff, lifts and removes build up from scalp, promotes hair growth and leaves your hair glossy. This is perfect for the scalp as it is anti-inflammatory, anti-bacterial, anti-fungal and antiseptic. Anyone experiencing seborrheic dermatitis or other chronic inflammation condition, this is the oil treatment for you. It helps to treat infections, relieve itchiness and soothe inflammation in the scalp. Did you know that walnut oil keeps your hair color and natural highlights more vibrant?
Raw honey.
One of my pantry staples. It is so versatile and due to its well known medicinal properties, I often use raw honey in skin, hair care products or in the kitchen at home. Raw honey is incredibly healing and rich in vitamins A, C, D, E, K and minerals such as magnesium, iron and calcium. It provides hydration making raw honey a wonderful conditioner, it keeps moisture locked in and heals damaged hair. If you want to naturally lighten your hair, try mixing raw honey with water.
Rosemary essential oil.
The most common essential oil that I use on my hair because it stimulates hair growth, increases blood circulation, treats hair loss and nourishes my scalp. The result is smooth, glossy hair. Throughout the week, I give myself scalp massages with rosemary essential oil blended with a carrier oil such as walnut oil to help restore and rejuvenate hair follicles. I sleep with the oil in my hair and shampoo in the morning to allow the time for the oils to activate and work throughout the night. This ancient herb has antioxidants and antimicrobial properties to slow down hair loss, graying of the hair, treat scalp conditions, remove dandruff and I've love that it has grown my hair long in a very short period of time (perfect for anyone looking to grow their hair for a special occasion).
Vitamin E oil.
Helps maintain a healthy scalp and nourishes hair strands by repairing damaged hair, improving circulation, boosting oxygen supply to the scalp and strengthening hair follicles. It also helps to reduce inflammation, encourage hair growth and makes hair shiny and smooth.
Aloe vera gel.
An incredible plant loaded with enzymes that helps to promote shine, balance out the scalp's pH levels (alkalizing properties), provides moisture to hair and encourages hair growth. I love aloe gel because it thickens hair strands and provides volume while still maintaining moisture locked in. My autoimmune disorder brings on a host of challenges and scalp issues are one of them. Aloe vera gel helps with itchiness, redness and decreasing inflammation by healing and conditioning the scalp. If you don't have a plant in your home to retrieve aloe vera gel, you can purchase pure aloe vera gel at any natural food supermarkets.
Lemongrass oil.
A refreshing scent that helps to decrease inflammation, improve hair loss and it is incredible for anyone that has damaged hair. It helps to treat oily scalp while working on dry ends, healing any scalp conditions and combined with rosemary oil, it helps prevent hair loss, strengthens hair and promotes growth while keep scalp healthy.
Tip:
Massage hair when applying the masque and before shampooing to stimulate blood flow and circulation to the scalp, promote hair growth and increase nutrient intake. This has definitely become a beautiful ritual that I've brought into my self-care routine for its healing and soothing properties, as well because it promotes better sleep, relaxes the mind and body and reduces stress. This is my hair self-care ritual that benefits the overall health.
Want a masque that promises to hydrate, repair and restore your locks?
This recipe is packed with nutrients, antioxidants and nourishment to get you the lustrous, healthy hair you've been missing.
Recipe:
4 tbsp. avocado oil
4 tbsp. walnut oil
2 tbsp. raw honey
5 drops rosemary essential oil
5 drops lemongrass essential oil
2 vitamin E gel caps
4 tbsp. aloe vera gel
Directions:
In a bowl, combine all ingredients and mix well.
Apply the mixture to your hair, working from the roots to hair ends
Massage the scalp for 10 minutes. Wrap it in a bun.
Leave it overnight (make sure your pillow cover is covered with a towel).
Rinse out in the shower.
Shampoo and condition hair in the morning.
Now, whip that hair back and forth, and let us know how it turned out below!
Receive Our Weekly Inspiration and Top Stories
---